Regular price
€29,00
Sale price
€29,00
Unit price
per
Sale
Sold out
A new generation of sunscreen with an advanced formulation enriched with botanical extracts from plants.
Developed for all skin types. Especially suitable for thinner epidermis people who suffer from sensitive skin with Seborrhoeic dermatitis or Seborrheic eczema.
Certified by laboratories in Italy, Spain, and China, our sunscreen provides true
protection across different skin types.
Carefully selected ocean-friendly ingredients, primarily sourced from plant extracts.
We prioritize environmental sustainability by avoiding harmful UV filters that damage
coral reefs. 
Join us in making a positive impact. Protect your skin while embracing a sustainable
mindset. Experience the next generation of sun protection.
30 ml - 1.0 fl.oz. recyclable airless bottle
Scientifically Proven

Natural ingredients

Vegan & Cruelty Free
Key Plant Extracts

Lavandula Angustifolia (Lavender) Flower Extract*
Olea Europaea (Olive) Fruit Extract*
Prunus Amygdalus Dulcis (Sweet Almond) Oil*
Butyrospermum Parkii (Shea) Butter*
Pelargonium Graveolens Flower Oil
Cymbopogon Nardus (Citronella) Oil
Aloe Barbadensis Gel
*Organic farming, made in Italy
Ingredients

Aqua, Caprylic/Capric Triglyceride, Titanium Dioxide, Zinc Oxide, Olea Europaea (Olive) Fruit Extract*, Aloe Barbadensis leaf extract*, Prunus Amygdalus Dulcis (Sweet Almond) Oil*, Lavandula Angustifolia (Lavender) Flower Extract*, Silica, Butyrospermum Parkii (Shea) butter*, Jojoba Esters, Polyglyceryl-2 Dipolyhydroxystearate, Cetearyl Alcohol, Polyhydroxystearic Acid, Glycerin, Pelargonium Graveolens Flower Oil, Cymbopogon Winterianus Herb Oil, Tocopheryl Acetate, Xanthan Gum, Tocopherol, Lauroyl Lysine, Sodium Stearoyl Glutamate, Algin, Citric Acid, Mica, Iron Oxides/CI 77491, Sodium Dehydroacetate, Benzyl Alcohol, Salicylic Acid, Sorbic Acid
Allergens: Benzyl Benzoate, Citral, Citronellol, Eugenol, Farnesol, Geraniol, Limonene, Linalool
*From organic farming
More information

At Suncademy we like to offer the greatest safety for your health and the oceans. That's why our formulations stand out for promoting a healthy microbiome thanks to the combination of vegan ingredients extracted from plants. Also, our formulas, which have not been tested on animals, do not contain microplastics, so they are respectful of the ocean and the environment.
View full details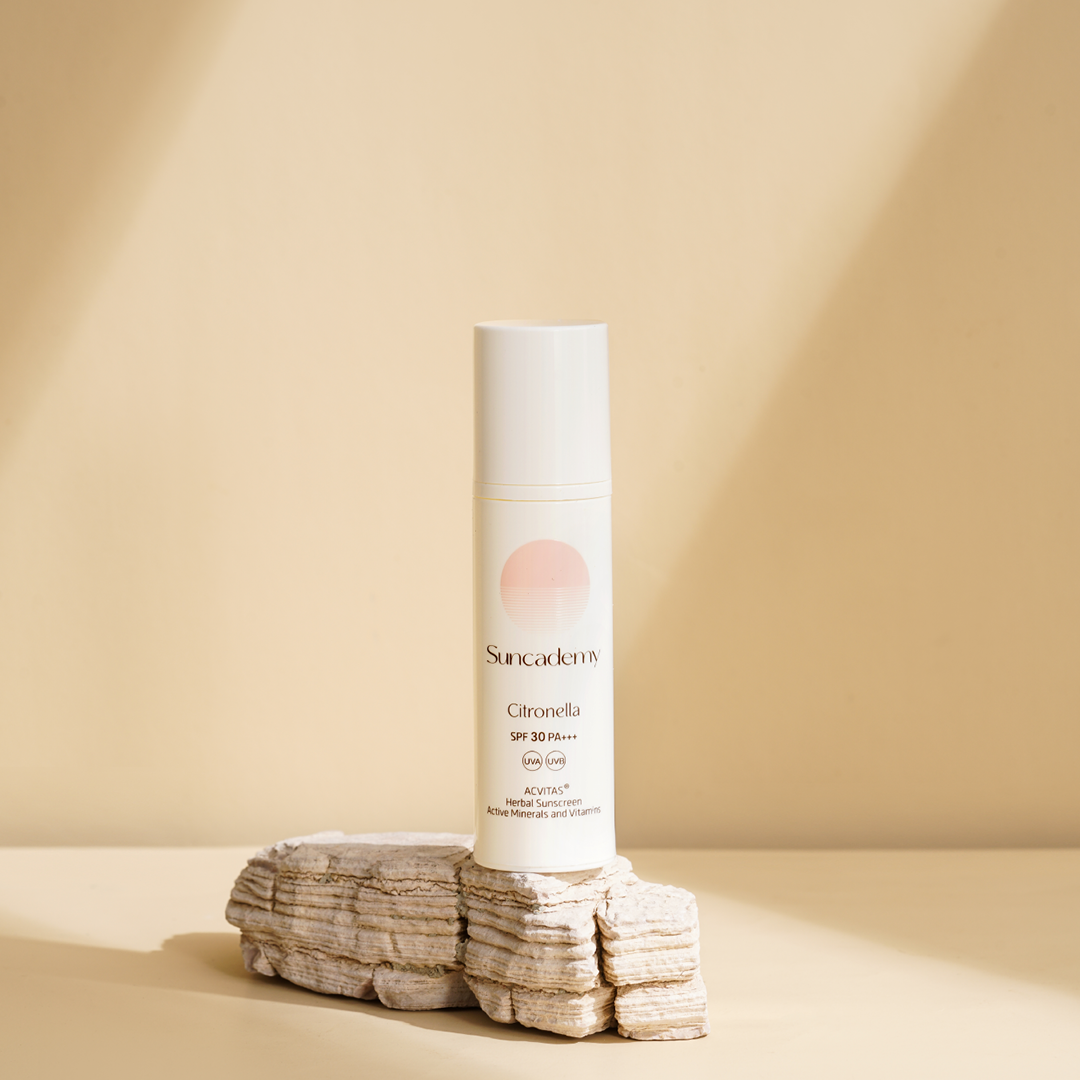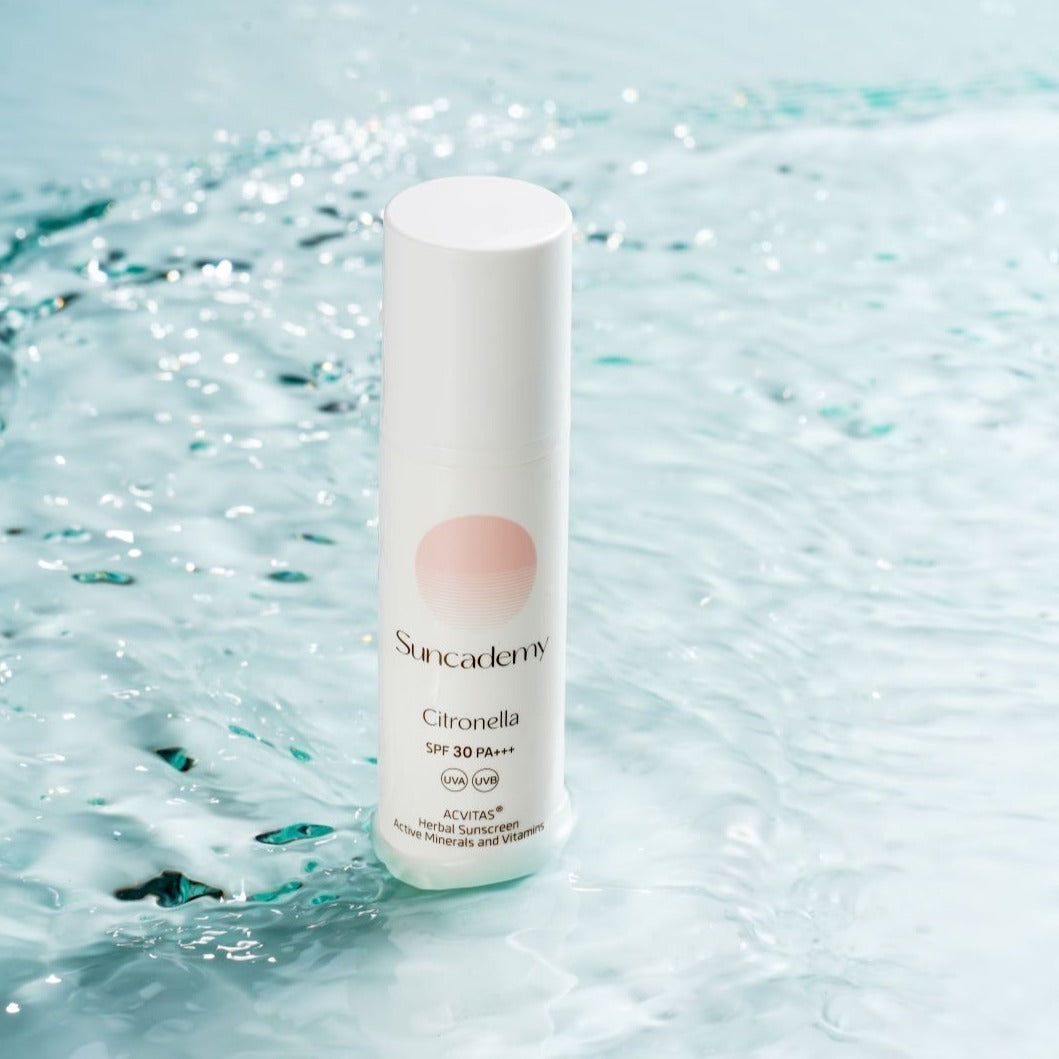 Benefits of mineral sunscreens for the skin
1. Safety for sensitive skin: Mineral sunscreens are gentle and less likely to cause irritation, making them an ideal choice for people with sensitive or allergy-prone skin.

2. Immediate protection: Unlike chemical sunscreens, minerals begin to protect the skin as soon as they are applied. They do not require time to be absorbed, which is especially useful when quick protection is needed.

3. Environmentally friendly: The mineral ingredients are biodegradable and do not cause damage to aquatic ecosystems, unlike some chemical sunscreens that can be toxic to corals and marine life.

4. Broad spectrum of protection: Mineral sunscreens offer protection against the two main types of UV rays: UVA rays, which cause premature skin aging, and UVB rays, responsible for sunburn.

5. They do not clog pores: Mineral filters are non-comedogenic, which means they do not clog pores. This is beneficial for people prone to acne or with oily skin.

6. Long-lasting protection: Unlike some chemical sunscreens that can degrade with sun exposure, mineral filters maintain their effectiveness for longer periods.
Regenerating power thanks to the best natural ingredients:
CITRONELLA (also called lemongrass) is found mainly in Nepal and Sri Lanka. Lemongrass has a series of positive benefits: it has an antiseptic and anti-inflammatory effect and relaxes the muscles.
GERANIUM OIL acts as a radical scavenger and soothes irritated and stressed skin. That is why it is often used in the treatment of acne.
OLIVE EXTRACT helps the skin against sun stress: its antioxidant properties capture free radicals caused by UV radiation and are therefore an anti-aging booster.
LAVENDER OIL soothes irritated skin and supports the regeneration process by stimulating the growth of skin cells. Not only it has a preventive effect against skin aging, but it also promotes healing processes.
ALOE VERA has a calming and refreshing effect that relieves the feeling of tension and promotes skin regeneration.
SHEA BUTTER provides the skin with intense hydration, makes it soft and smooth and at the same time has a soothing effect on the skin.
SWEET ALMOND OIL has a triple effect: it hydrates the skin, soothes sensitive areas and is nourishing. This makes it fantastic for dry, irritated skin and as an anti-aging ingredient.
CRUELTY FREE

Our products are vegan and have not been tested on animals. All our studies have been done with voluntaries in Spain and China.

IN VITRO TESTING

Suncademy's sunscreens have been tested in Italy for SPF for UVA and UVB protection

OCEAN FRIENDLY

Our products are free of microplastics and are not harmful for the ocean's wildlife and nature.
Use our method SunPeace to apply your sunscreen evenly and protect your skin.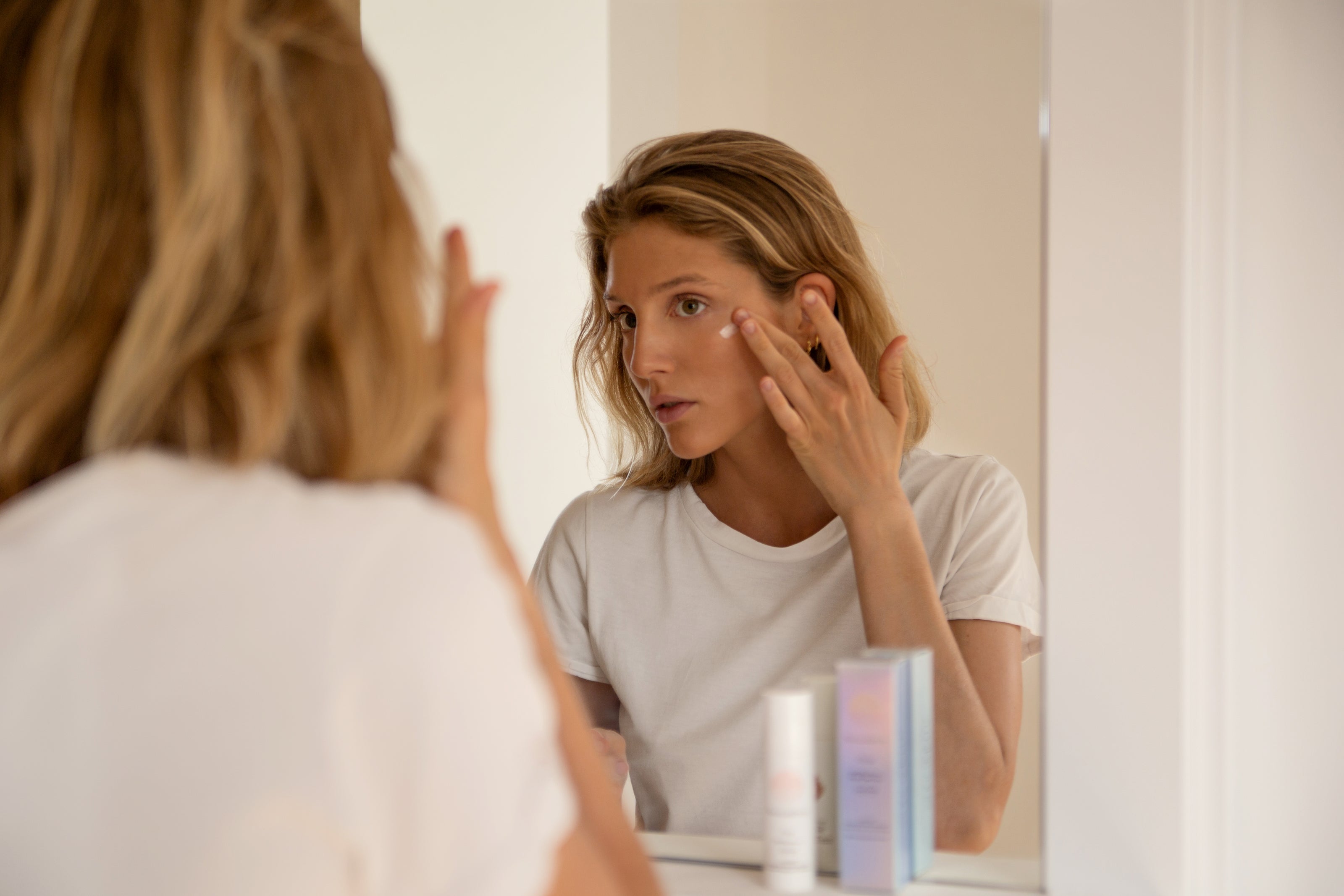 STEP 1: Apply product on your fingers

Apply 2 to 3 drops of sunscreen to the middle and ring fingers of one hand; Now you have enough sunscreen.
STEP 2: Clap your hands

Now place the two fingers of the other hand gently on these fingers so that you now have cream on all four fingers.
STEP 3: Treat your eyes with a massage

Use your ring fingers to gently massage the cream into the skin around your eyes. Attention: As the skin is thinner here, you should not rub it under any circumstances.
STEP 4: Draw circles around the nose

Place the middle and ring fingers next to the nostrils and slide towards the ear so that the cheek area is covered with cream. Then stroke from temples to forehead and back to nose.
STEP 5: Don't forget the month, jaw and ears

First wipe the cream from left to right from the corner of the nose, then from the jaw to the chin. To ensure ears and neck are well covered, wipe from jaw to ear and back to neck until evenly covered. The ears are often neglected, but both the front and back need cream.